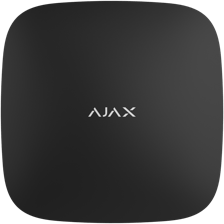 Hub 2 Plus
Advanced control panel supporting LTE and visual alarm verification
No. Hub is designed for indoor installation.
Yes, it is correct. Hub 2 Plus support up to 200 MotionCam motion detectors with a photo verification of alarms feature.
Currently, connecting Hub 2 Plus to DC 12 V is not supported.
The hub identifier or its serial number is the first 8 characters under the QR code of the hub.
You can find identifier of the hub under the SmartBracket mount, on the box label, as well as in the hub states in the Ajax application.
All Ajax detectors and devices can be connected to Hub 2 Plus except another Ajax hubs and ocBridge Plus and uartBridge integration modules.
Correct operation of Hub 2 Plus is guaranteed at a temperature ranging from -10°C to +40°C and humidity up to 75%.
Mounting Hub 2 Plus inside rooms with a different temperature mode can lead to loss of communication with Ajax devices, and in the worst case — to failure of the device. Note, that the battery life of the hub can be significantly reduced at low temperatures.
Yes, the Ajax security system can operate when only one of the communication channels is used.
Nevertheless, we recommend connecting all communication channels as one channel may stop functioning. For example, if you run out of balance on your account or due to a malfunction of the operator's equipment.
Yes, it is correct. Hub 2 Plus can operate via Ethernet, Wi-Fi, and also use 2 SIM-cards with support for 2G / 3G / LTE.
Supported cellular network standards:
2G (GSM900/DCS1800 (B3/B8))
3G (WCDMA 850/900/2100 (B1/B5/B8))
LTE (FDD B1/B3/B5/B7/B8/B20)
Yes. The built-in battery of Hub 2 Plus provides up to 15 hours of battery life.
In the case of switching to a backup power source, a corresponding notification is sent to the user and the security company.
Hub 2 Plus uses 4 communication channels for transmission of alarms and events to users and the monitoring station of a security organization: Ethernet (main communication channel), Wi-Fi and two SIM cards with LTE support (backup channels).
If one of the channels is temporarily unavailable, the system switches to the other one automatically and without delay.
You can install a SIM card of any operator into Hub 2 Plus. Supported cellular network standards:
2G (GSM900/DCS1800 (B3/B8))
3G (WCDMA 850/900/2100 (B1/B5/B8))
LTE (FDD B1/B3/B5/B7/B8/B20)
Prior to installing the SIM card into the hub, disable the PIN code request in the settings menu (in order to do this, you need to insert the card into a phone). Furthermore, your mobile account must have a positive balance or bonus megabytes of traffic.
As one of the SIM-cards may stop working for natural reasons (for example, due to the failure on the operator's side or because of lack of money on the account), we strongly recommend connecting the hub through all possible communication channels.
It is possible, but only given that the signal level between the hub and devices is not lower than 2-3 points (you can check this in the app). Also, the cellular and Wi-Fi signal must be stable at the installation site (in case these communication channels are connected).
It's also necessary to fix the hub on the surface with screws. Otherwise, the hub can be easily dismounted, the tamper will not work, and both security company and users will not receive the corresponding notification.
The communication range between the hub and the device is limited by the radio signal range of the device (indicated in the specifications of the device page on the website and in the User Manual). The maximum communication range with Ajax devices is 2000 meters without obstacles.
Up to 25 security groups.
Up to 100 cameras or DVRs.
Up to 200 security system users (regular and PRO).
You can add up to 200 detectors or Ajax devices to Hub 2 Plus.
Note, that up to 10 sirens can be connected to the hub!
Hub 2 Plus is a security system control panel with alarm photo verification and 4 communication channels support.
Hub
Hub Plus
Hub 2
Hub 2 Plus
Devices
up to 100
up to 150
up to 100

up to 200

Cameras and DVRs
up to 10
up to 50
up to 25
up to 100
Users
up to 50
up to 99
up to 50
up to 200
Groups
up to 9
up to 25
up to 9
up to 25
Backup battery
up to 15 hours of battery life
up to 16 hours of battery life
up to 16 hours of battery life
up to 15 hours of battery life
Support of detectors featuring photo verification of alarms
No
No
Yes
Yes
Communication channels

2G 1×SIM

Ethernet

2G/3G 2×SIM

Ethernet

Wi-Fi

2G 2×SIM

Ethernet

2G/3G/LTE 2×SIM

Ethernet

Wi-Fi
OS Malevich 2.9 update has added the ability to transfer data from one hub to another without reconfiguring the system, adding users or devices.
To use the function, go to the Data Import menu in the settings of the hub to which you want to transfer data, and follow the on-screen instructions. To transfer data, OS Malevich of both hubs must be 2.9 or higher.