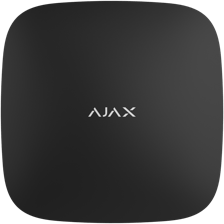 Hub
Intelligent security control panel
No. Hub is designed for indoor installation.
The hub identifier or its serial number is the first 8 characters under the QR code of the hub.
You can find identifier of the hub under the SmartBracket mount, on the box label, as well as in the hub states in the Ajax application.
Divide the capacity of the external battery by the power consumption of the central panel.
Power consumption of the central panel depends mostly on active communication modules — the average values ​​are indicated in the table:
Central panel
Active communication modules
Average input current
Hub
GSM
42 mA
Ethernet
80 mA
GSM+Ethernet
90 mA
Hub Plus
GSM
35 mA
Ethernet
72 mA
GSM+Ethernet
93 mA
Wi-Fi
20 mA
Wi-Fi+GSM
42 mA
Wi-Fi+Ethernet
80 mA
Wi-Fi+GSM+Ethernet
96 mA
Hub 2
GSM
33 mA
Ethernet
80 mA
GSM+Ethernet
86 mA
ReX
—
20 mA
For instance, when connected to a 40A·h battery, Hub 2 — with active GSM module only — will operate approximately 1200 hours (40A·h / 0.033A).